Sherline Tips

I got this rack from MicroMark (item 60295, $15.40). It's not designed for the purpose, but it just barely holds the draw bars used by the chucks, collets, etc. allowing them to be stored just so.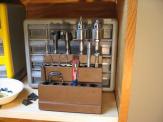 This started life as an "Acrylic Lipstick & Pencil Cube" (item 854100, $9.99) from The Container Store.
It has 9 holes, 5 of which fit the Sherline end mill holders quite nicely. The other 4 have to be bored out a bit. (Hint, don't bore 'em very deep, then you can have them hold small end mills, like 1/8" shank, without resting the tiny end mills on the bottom.) It also has several smaller holes (for the "pencils", I suppose) that hold tommy bars and such very nicely.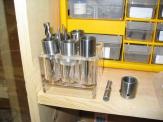 ---
Home
---
Content and imges copyright © 2006 by Jeff Jones